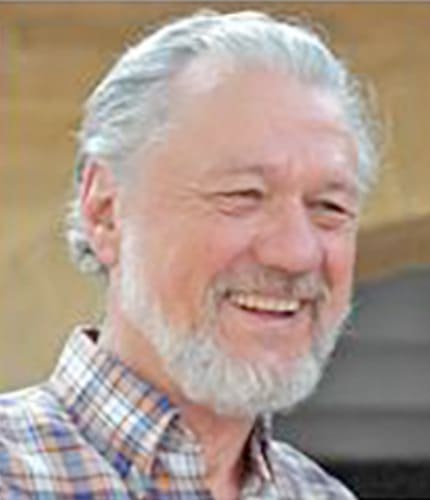 Narad Eggenberger is a longtime member of the Sri Aurobindo Ashram and Auroville as well as a musician, poet, landscaper, horticulturist, and gardener.
As a youth he took voice lessons and prepared for an operatic career at the Metropolitan Opera on a scholarship from one of the leading mezzo sopranos of the day, Regina Resnick. When he was 23, he came to the Sri Aurobindo Ashram and had his first darshan of the Mother, who made him an ashramite and gave him permission to teach music in the ashram school.
Narad went back to U.S. in 1962, working with a landscape design and installation firm and attending college to learn plant combination theory and other aspects of subtropical horticulture. In 1969, he returned to Pondicherry, where Mother gave him the task of creating a beautiful garden for the Matrimandir. He worked personally with the Mother on the spiritual significances of flowers and edited the book, 'Flowers and Their Messages', the first book published by the ashram on the spiritual significance of flowers. Mother also gave Narad the work of reading 'Savitri' every week under the banyan, which he did for 10 years.
About seventeen years ago Narad began the OM choirs, which have brought a new kind of conscious music to the Ashram, Auroville, and many places around the world.